When the neighborhood voiced concerns over the initial design plan for a new pavilion, Boulder Parks & Rec listened to our concerns and developed an alternate plan with wide-scale approval. This new plan addressed the needs of this community park while meeting objectives of the Capital Improvement Bond passed in 2011. A special thank you to Doug Godfrey and Jeff Haley for their dedication to this important project. We've seen the benefits of park improvements over this past year; this park is a gem in our wonderful community!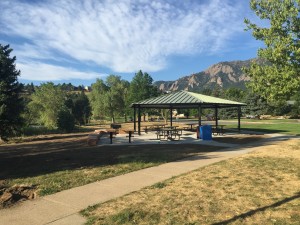 For more information on Harlow Platts Community Park and Viele Lake, and to reserve space at the new and improved shelter, click here.
UPDATE: Petition now available here: link to petition

Boulder passed a Capital Improvement Bond in November of 2011 which provided the Parks and Recreation Department funds to address infrastructure deficiencies. A number of these items were identified at the Harlow Platts Park, beginning with the par course equipment which was updated last year.  The Parks and Recreation department would also like to build a larger shelter with restrooms that could host parties, weddings, graduations, and corporate events.   Table Mesa homeowners are appreciative of what the Parks & Rec department does for our community.  With regards to the proposed pavilion, community members have identified the following concerns and risk factors.
Harlow Platts is generally a neighborhood park that children walk or bike to.  How will having larger parties, weddings, and corporate events  impact the safety of our children who often walk to and from the park freely?  How will the increase in traffic, speeding, driving under the influence, lack of parking (more parking on the street/decreased visibility), etc. effect this neighborhood?

Local administration is concerned about this type of park facility being so close to the high school, a good 'hang out' for students and potential hot spot for drug use.  Is this an 'improvement' to our community?

Martin Acres Park restrooms are often closed, and not just in the Winter (there is now an adjacent port-a-potty).  How will the new structure be maintained?

There is already a large pavilion at Harlow Platts adjacent to the lake (just steps away from the new pavilion's proposed location) that is largely unused, aside from a flock of pigeons.  How can we be assured this facility will not suffer the same fate and should the existing structure be torn down?

Will having a partially enclosed structure at such a widely used park open up greater risk of assault and make our children, many of which walk past the structure to school, more vulnerable to strangers?

How useful is a pavilion located adjacent to a parking lot and at the base of an intersection (Gillaspie & Heidelberg)? How is this a safe location?

Why is adding restrooms necessary when there are already multiple restrooms at the South Boulder Rec Center and a port-o-potty just steps away?

The proposed location has changed recently (now on the south end of the south parking lot near Heidelberg Drive).  What process will be used to seek guidance from the community on the final proposal?

Why use tax payer money to build a 'wedding pavilion' in a community park that will compete with private establishments?

Will the pavilion serve as a shelter and running water facility for Boulder's homeless population (a concern mentioned by a local police officer)?

How will noise be controlled in the evening and at what cost to taxpayers (just because the park is 'closed' does not keep people from populating the pavilion)?

How will alcohol be managed for weddings and parties?
Recent additions to the above list based on neighborhood feedback:
Note – We are appreciative of the response we have gotten with this website.  The more we talk to people the more concerning the idea of a very substantial 'wedding pavilion' at Harlow Platts Park becomes to us. We understand that for many the initial idea of having a pavilion and restrooms at the park may sound enticing, but please consider the following points that have been brought to our attention and take a look at Harlow Platts Park from a google maps (satellite view) perspective to see what little green space we have left.  Feel free to comment and please direct any responses to those listed on the website below.
Did the voters of the Capitol Improvement Fund want a 1,700 square foot structure with restrooms, 6 picnic tables, and bbq's that would host 50-75 people (with $275,000. budgeted)? The public process has been inadequate and more public review is requested.  This use of Capitol Bond Improvement money is questionable.

Adding a structure like this introduces new activities to the Harlow Platts Park.  What studies have been done to assess safety, cost, land use, traffic, etc.?

The park has a fixed amount of land and there is concern that the park green space is being overused (there is already a par course, playground, skating rink, disc golf course, soccer field, 3 parking lots, gazebo, 1 pavilion, rec center, tennis courts, volleyball course).  Boulder has few open park areas within city limits and it's unfortunate that the city is going to destroy this one remaining one.  Can't we keep the park green?

Many people complain about the geese and their droppings at our park.  Food scraps, trash, and food crumbs will only further attract the geese to the pavilion, grassy areas of the park, and parking lot.  How can the city possibly keep a new pavilion clean in this area (even with a contracted custodian), and what will be done to manage and protect the geese?

The Harlow Platts Park is a historic site, dedicated in 1962.  What steps has the city taken to evaluate the effect of this pavilion and bathroom structure on the historic values of the park?

Parks & Rec has responded to safety concerns by saying the restrooms will be locked and unlocked daily and a custodial company will be in charge of cleaning.  Is this the same company that maintains the existing 'warming hut' structure which is underutilized because it is so dirty?

The pavilion and bathroom buildings seem contrary to the voter desires which is to see more greenbelts, more natural areas, protection of historic sites, more natural habitat for species, protection of species, and protection of wetlands and compliance with the city, state, and federal environmental and historic protection laws. Has this been taken in to consideration?

Viele Lake is one of very few lakes within the City of Boulder boundaries and it provides rare wetland habitat for multiple species, including protected and endangered species such as Bald Eagles, Golden Eagles, the Preble's Meadow Jumping Mouse, and possibly the Ute's ladies tresses orchid.  Has the city done a survey to determine if the construction will impact endangered and protected species?
***NEW – view and sign the petition by following the link below!
http://www.change.org/petitions/city-of-boulder-parks-and-recreation-for-study-analysis-and-public-involvement-in-the-city-s-proposal-for-a-new-harlow-platts-structure?recruiter=83295194&utm_campaign=signature_receipt&utm_medium=email&utm_source=share_petition
We appreciate that the Parks and Recreation Department has taken community feedback and will be installing shade over the sandbox area, and hope they take these concerns on the proposed pavilion into consideration as well!
If you share any of these concerns, please contact Boulder Parks and Recreation directly.
Doug Godfrey – project manager and parks planner, godfreyd@bouldercolorado.gov, 303-413-7229 or 7225
Jeff Haley – parks and planning manager, haleyj@bouldercolorado.gov, 303-413-7215
Jeff Dillon – interim director of parks and rec, via Sally Dieterich dieterichs@bouldercolorado.gov, 303-413-7247
Tina Briggs – community engagement, briggst@bouldercolorado.gov
More information on the proposed shelter and Capital Improvement Bond:
https://bouldercolorado.gov/parks-rec/harlow-platts-park